BACK TO GET DATA
CensusAtSchool 16 Results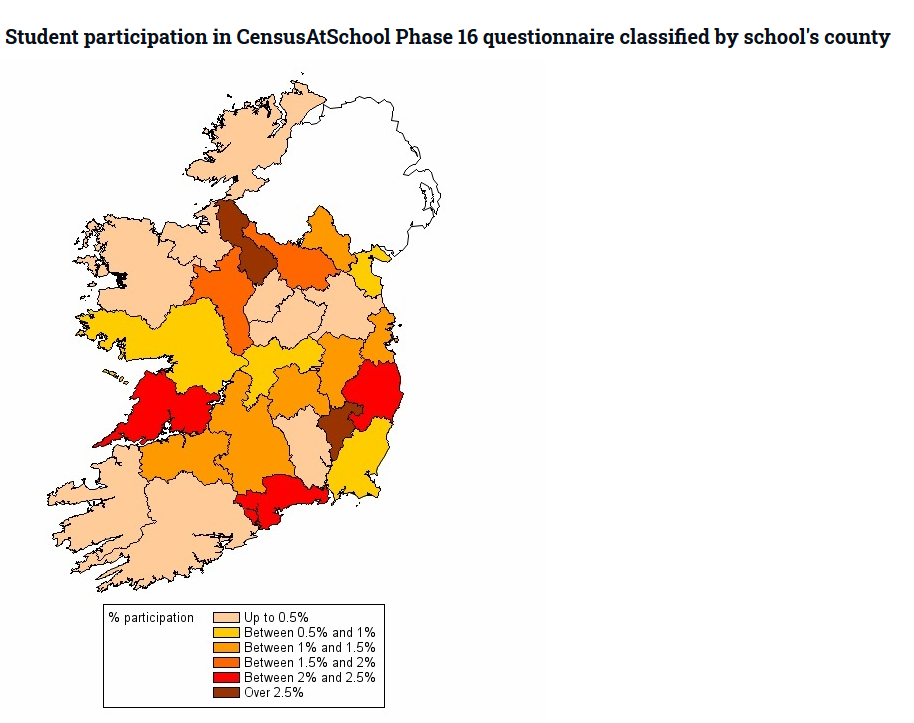 From an estimated 352,000 secondary school students, 3,471 (1.0%) students completed the Phase 16 questionnaire of the CensusAtSchool survey. It was available between September 2016 and August 2017. The Phase 16 questionnaire covered a variety of topics including:
UN Sustainable Development Goals
The level of recycling in households
The weight of school bags.
Interesting findings from Phase 16 results:
Students spent over one-fifth of the day (5.3 hours) on a mobile. Female students reportedly spent over an hour extra on a mobile than males on average. Male students reported that they spent 6 times longer than female students playing games on a PC or games console.
In 2016, the vast majority of students (86%) carry their bag on both shoulders. Comparing the data to Phase 12 data, female students show almost no change in how they carry their school bag, however males are now more likely to carry their school bag on two shoulders in 2016 than 2012.
A greater proportion of 6th year students (over 50%) responded with a high level of concern in relation to climate change.
Irish students ranked the UN Sustainable Development Goal (SDG) "No Hunger" as the most important SDG goal to them. The least important goal was "Partnership For The Goals".
Students reported that over three-quarters of their families engage in recycling. It is more popular than composting or using renewable energies.
Over a third of families engage in recycling alone (35%) and over a third (36%) engage in both recycling and composting.
Paper/Cardboard is the most popular item by families as reported by the students.
The most popular method of composting is using the brown bin and the most popular source of renewable energy is solar.
Over half of students (54%) reported that climate is the main factor when their family decide on a holiday destination with the cost of the holiday coming a close second (52%).
Students were asked to indicate which colour was their favourite. Both male and female students selected blue as their preferred choice.
Students were asked to indicate what one word described how they felt at that moment. For female students the most popular term was "Tired". For male students the most popular term was "Happy".
Visit the CSO website to interact with the graphical representation of the result findings.