BACK TO GET DATA
CensusAtSchool 13 Results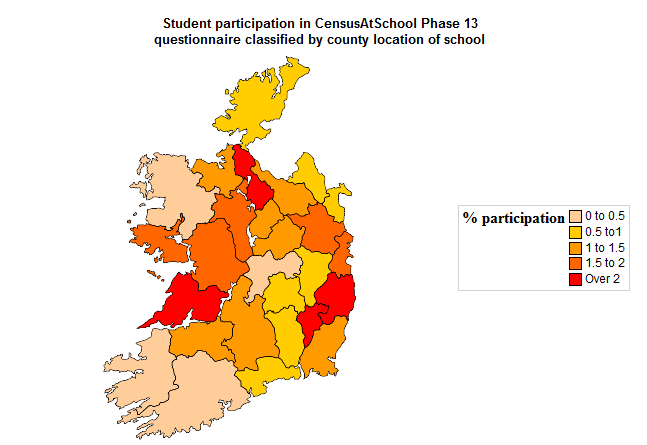 4,906 (1.3%) from an estimated 368,000 secondary school students completed the Phase 13 questionnaire of the CensusAtSchool survey between September 2013 and August 2014. The questionnaire covered a variety of topics ranging from how much students earned each week to their favourite takeaway food and their resting heart rates.
– Interesting findings from results:
Over four-fifths of students receive a weekly income. Pocket money (32% in females and 33% in males) and paid work (16% in females and 17% in males) are the most popular type of payments being received.
Chinese (33%), Pizza (28%) and Chips (10%) were student's favourite take-away foods.
On average, students indicated they own 12 pairs of different types of footwear. Female students (16 pairs) indicated they own twice as many pairs of footwear as male students (8 pairs).
When asked about the level of trust of a selection of social entities, students indicated they have the most trust in their classmates and the Gardaí. Students indicated they had the least level of trust for politicians and the press.
Physical education (13%) and Art (12%) were student's favourite subjects at non-fee paying secondary schools. In contrast, Mathematics (11%) and English (9.5%) were the favourite subjects of students attending fee paying secondary schools.
64% of students indicated they have read a book in the last month. Fantasy/Sci-fi (18.7%), Adventure (18.6%) and Romance (12.8%) were students' most popular genre of book.
Responses indicate that students in the more northerly counties of Donegal, Sligo, Cavan, Longford and Westmeath had the lowest resting heart rates (60-65 beats per minute (bpm). When students measured their heart rate after a short burst of exercise it was students in Offaly that had the smallest percentage rise in their bpm (20-29%).
Visit the CSO website to interact with the graphical representation of the result findings.